Part of the A – list, these earbuds have so much to offer, beat a ton of other competitors, include some new tech,sleek and stylish, amazing sound quality, all for less than $100.
What more would you ask for.
This review breaks down all the parts that make the 1more truly impeccable, to an extent. What I like best about them is they don't stretch your pocket at all.
Battery Duration
With a single charge the earbuds last just under 6 hours. With the case, this provides 4 extra charges. In addition, has a quick charge implementation.
The charging case takes about an hour to complete a full cycle of charge. Yes, this is well above the jam true wireless earbuds standards, and a few other brands.
Unfortunately, the case feels a bit heavy, and clunky with the 410mah battery pack.
Regardless, it still meets the standards.
Sound Quality
One thing I do want to emphasise, is how much artificial base has been injected to the vocals, including the instrumentals.
The high's and low's distort within one another, making it difficult to hear the high's and low's.
Although, it makes sound feel different in its own way, and really brings out a few instruments' sophistication and enhances the vocals clarity.

However, I also noticed when it is in different positions within your ear, the sound radiance changes a little.
In terms of sound cancellation, it's really good. Depending on how you fit it within your ear. It uses the tips to seal of any gaps to reduce any waves coming inside.
I can say it works well!
The 1more stylish uses AAC and apt X high-quality codecs for lag-free playback. This is useful when you are playing back movies, or streaming live shows. etc. And the sound is synchronised with the screen.
I think the sound qualities the 1more consist of, works exceptionally well whilst in the gym, or on a train.
However, I wouldn't advise using at home, or in the office – the enhanced bass can damage the follicles inside the ear canal, causing permanent hearing damage. You won't notice this instantly but over time.
Therefore, I also stress not to wear them for long periods of time.
Also Read: Latest : Apple Launch Airpods Pro with Whole New Features
Comfort And Aesthetics
Firstly, the 1more earbuds consist of 3 in ear tips. Which allows you to craft a unique custom fit. The unique silicone sleeve fits snugly inside the outer ear canal.
However, the material used isn't that durable and can tear, so take caution when swapping tips. But, it does feel nice and cosy inside the ear. I've worn them for more than a few hours, and felt no discomfort.
Secondly, the earbuds feature a dust-proof stainless steel case. This protects against the internal electronic boards and the wireless communication system.
In comparison to other brands, the 1more earbuds have improved manufacturing quality and aesthetics.
This is noticeable, closely, where every detail looks refined and articulated to the last little piece. In fact it just looks so satisfying when you are looking at it.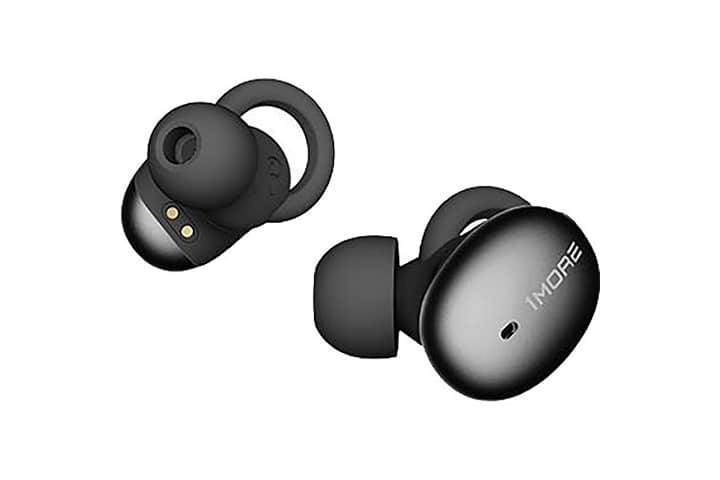 On the flip side, water-resistance still isn't available with these earbuds. If you intend on using them outdoors, check the weather first.
But I've used a few different earbuds without water-resistance, in the rain, and I can say I've noticed no difference.
However, that's your decision to make if you want to use it whilst raining.
Features
The 1more true wireless earbuds packs some exclusive technology, only these buds contain. Here are a few:
TITANIUM COMPOSITE DYNAMIC Driver – A 7 mm dynamic driver with titanium for that extra bass. One of the latest.
ENC MICROPHONE TECHNOLOGY – stimulates in depth vocals, like face to face conversations. Only these have this feature.
LDS ANTENNA – Allows for less signal interference, immersive music stimulation. And smooth phone calls. Yes this stabilises the Bluetooth signal and makes it worthwhile around those concrete blocks.
Summary
I've seen lots of earbuds, and when I first heard of the 1more true wireless earbuds. I thought, another rip off from amazon.
But I then heard the brand name more frequently, so I had a closer look.
To my surprise, these live up to high standards and work really well, in the gym, and at concerts!
The sound quality is fantastic, the comfort is really pleasant, and it's just stylish and the ease of use is easy-peasy.
If you are looking to buy, and have a small budget these are fantastic. I strongly recommend buying them.
Also Read: 7 Things To Consider When Buying Wireless Earbuds